The following document defines the process for creating a Chartboost campaign within Kochava.
---
Create an App in Chartboost
After you work through the app creation process you will see that your app is now within your Chartboost App Listing (note the grey SDK)

---
Create a Chartboost Campaign within Kochava
Log in to Kochava.
Select the desired Account and App.
Select Links > Campaign Manager.
Click Add a Tracker or Select Segment Tools (⋮) > Add a Tracker.

Select the Campaign.
Select the Segment.

NOTE: In order to streamline the Campaign/Segment/Tracker creation process a feature has been added to allow the creation of campaigns and segments while creating a new tracker. For more information about creating a campaign or segment while adding a new tracker, refer to our Create an Install Campaign support document. support documentation.

Add a Tracker Name.

NOTE: When a Tracker is created, Kochava automatically generates a name for the Tracker. We recommend that you replace the Tracker name at this point with a clear name of your choosing.

Select Tracker Type > Acquisition. (default setting)
Select a Media Partner > Chartboost.
Select an Agency Partner. (optional)
Select the Destination URL Type:

Custom
Google Referrer (Android Only)
Landing Page

NOTE: For more information on creating and using Landing Pages, refer to our Landing Page Creation and Maintenance support documentation.

Update or Enter the Destination Install URL.
Enter a Deep Link. (optional)
Enter Custom Parameters. (optional)
Click Save. (if no further trackers need to be created).
Click Save & Add Another Tracker. (if additional trackers need to be created).
Click Save & Create Postback (to navigate directly to the Partner Configuration page).

A. Campaign and Segment selection/creation section.

Copy and Retain the Click URL for use in the Chartboost UI.
---
Create a Postback within Kochava
Select Apps & Assets > Partner Configuration.
Click Add a Configuration.
Select Network Partner > Chartboost.
Click Go.

NOTE: Chartboost – Legacy network partner is for a legacy integration with Kochava. This network should ONLY be selected if utilizing the legacy Chartboost system. For more information, contact your Client Success Managers.

Select Install > Postback Tools (⋮) > Edit.
Enter the Chartboost Signature. (obtained from Chartboost)
Enter the Chartboost App ID. (obtained from Chartboost)
Select Send Attributed To.

NOTE: If the Send Attributed To check box is selected, Chatboost will receive the data for who Installs are attributed to.

Select a Delivery Delay. (optional)
Select the number of Retry Attempts. (optional)
Select the Delivery Method.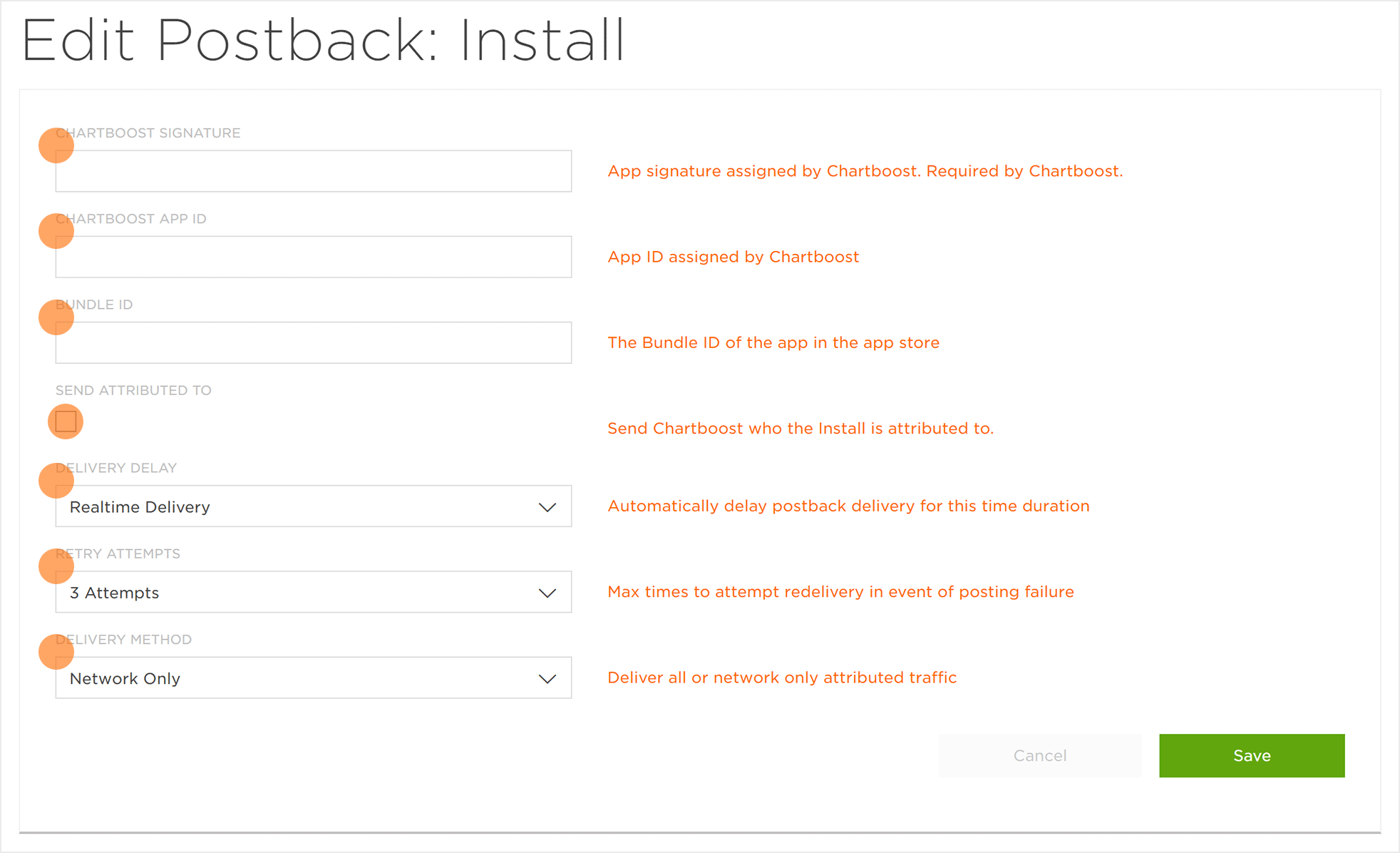 ---
Insert Click URL into Chartboost User Interface
Separate the Click URL as follows:

Static Parameters:
ko_cid=koconversionsdemo174ea19bc63928c3b7e953de86ca
platform=ios

Select Tools > Callbacks.
Enter the Click URL.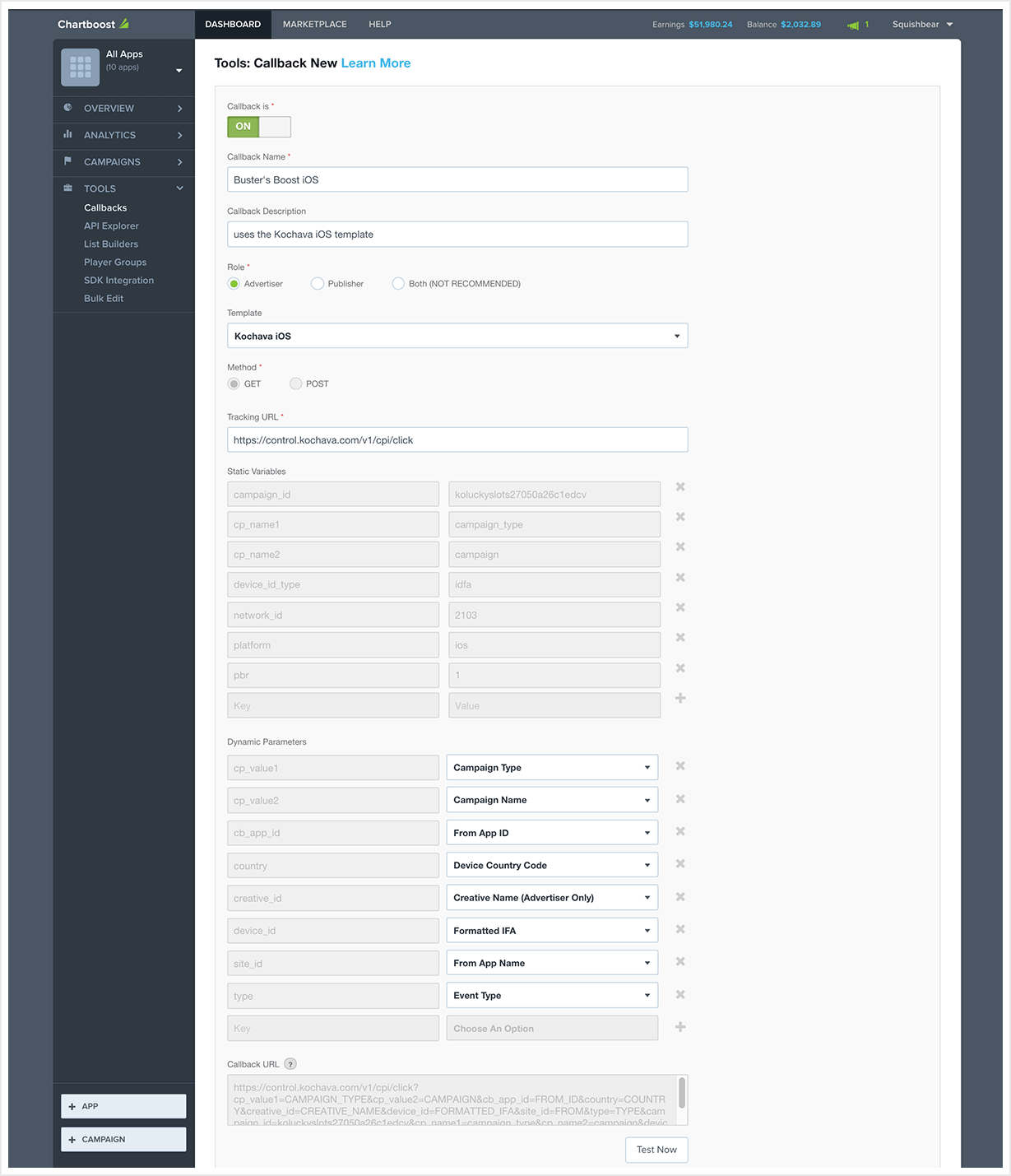 Last Modified: