The Kochava Collective is a database which brings Publishers and Advertisers together for the most efficient and powerful audience targeting in the mobile industry. Audience targeting can be easily fine-tuned to generate very specific audience segments of potential customers.
Data Needed Before Beginning Process:
User account within Kochava with permission to the Kochava Collective.
Purchase Order Authorization Code. (may be obtained after audience segment is created)
Use Cases for the Kochava Collective:
Utilizing the Kochava Collective will provide the ability to define specifically targeted audience segments.
Advertiser desires the ability to locate a specific audience segment.
Advertiser has a set budget and desire to reach a very defined set of users to maximize ROI (Return on Investment).
Advertiser who is not willing to submit their users to a network for targeting in fear of giving away data.
Advertiser who need a trusted source of user activity by device.
---
Kochava Collective Advertiser User Interface
Log in to Kochava.
Select the desired app.
Select App Tools>Kochava Collective.
---
Kochava Collective Overview Page
The Kochava Collective overview page displays the Unique Device IDs (Total, Active and New), App Category, Device Platform and any Audiences that have been created.
A. Device Totals
B. App Types within the Kochava Collective
C. Device Platforms within the Kochava Collective
D. Created Audiences
---
Add an Audience
Click Add an Audience.
Enter a unique Audience Name.
Select Exclude IDs From This App. (checked by default)
Enter a Max Device ID or Total Cost.

NOTE: The values for the Max Device ID and Total Cost are tied together. Updating a value in one field will update the value in the other field. By default, the Max Device ID and Total Cost are set at the maximum amount the current account can purchase.

Select a Frequency/Recency Date Range.

NOTE: The IDs that are collected as part of the Frequency/Recency setting are determined based on both clicks and installs.

NOTE: By default 30 Days is selected.

NOTE: Any Rules added with recency or frequency will be limited to the time period selected.

NOTE: If no Filters are needed, proceed to Step 7.

Click Add a Rule (optional):

a. Select a Filter Type.
b. Select whether the Filter Type Matches or Does not Match.
c. Add Values to each Filter Type for refinement. Multiple values may be added to each filter enabling any layer of refinement desired.
d. Filters may be removed by clicking "X".

Click Generate Audience Preview.

A. Click to add Filters
B. Select the Filter and Matches or Doesn't Match
C. "+" to add Values
D. "X" to remove

NOTE: An email will be generated and sent to the email address of the user that created the audience segment which will contain a summary of the audience and a link to the Kochava Collective.

Click on the Link in the generated email or navigate back to the Kochava Collective and click the Audience expand button.

NOTE: At this point, a purchase of the audience group has not occurred. Before the purchase is finalized, a Purchase Order Authorization Code must be entered.

Click "X" next to associated networks to remove and Click Update Network Distribution. (optional)

NOTE: After removing networks, the audience group will be re-generated, an email will be sent to the email account of the user that generated the audience group, and the data displayed within the Kochava Collective will be updated.

Enter a Purchase Order Authorization Code.
Click Create Campaign.

NOTE: Once an audience has been purchased, a Campaign will be automatically created within Kochava for the specific audience group.

A. Click to remove network and update audience group.
---
Purchased Audience Overview
Once an audience has been created, the audience will appear in the Kochava Collective homescreen.
Kochava Campaign Audience:
Click the Audience expand button.
The purchased Audience will display the Platform, Filters, Networks, total number of Device IDs, Order Total and the Audience Status.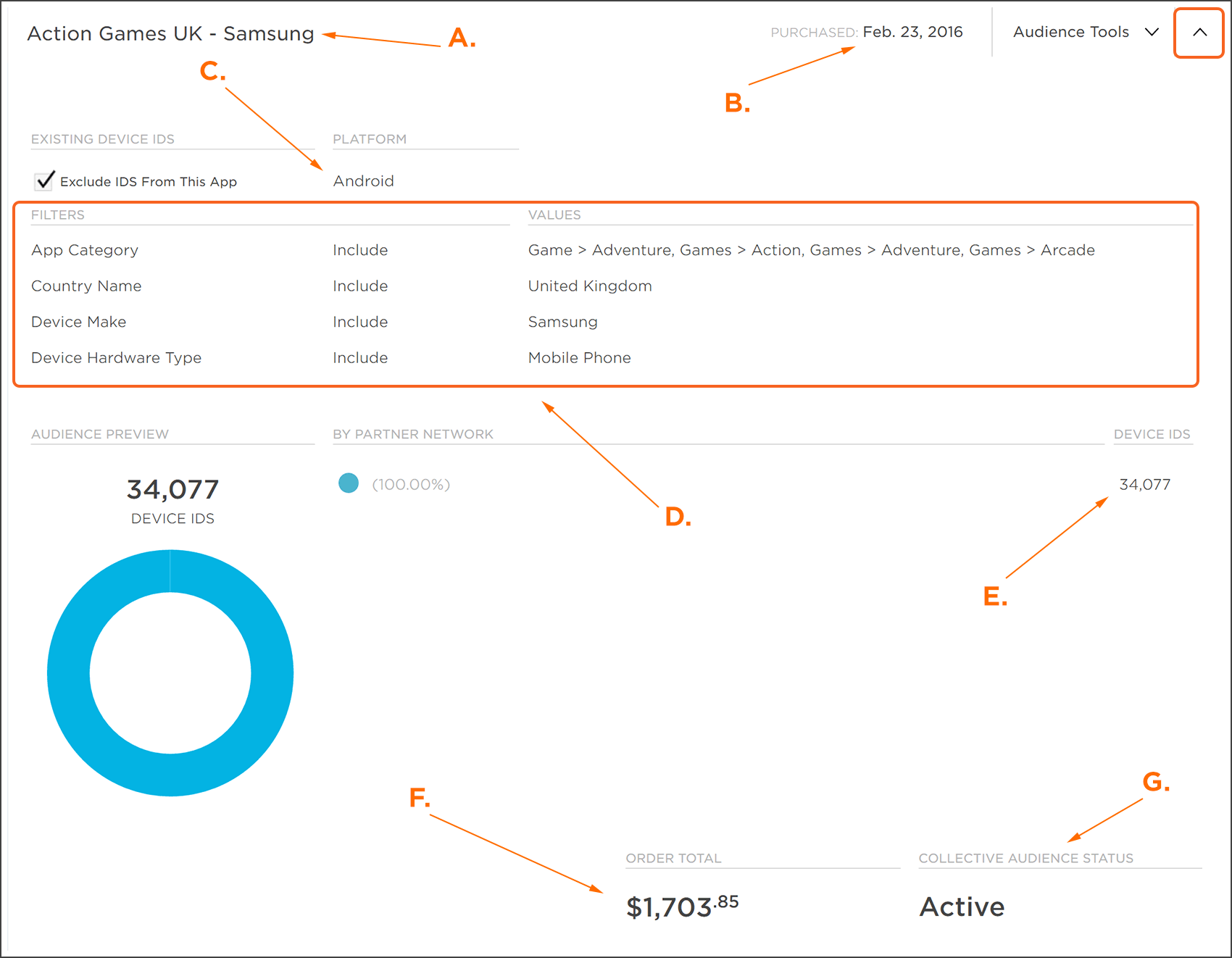 A. Audience Title
B. Purchase Date
C. Platform(s)
D. Filters and Values
E. Total Number of Device IDs in Audience
F. Order Dollar Total
G. Status
Seed Audience:
Purchased Seed Audiences will be displayed with all relevant data shown within the title.
A. The purchased seed audience, and destination.
NOTE: For more information about purchasing a Seed Audience, refer to our Kochava Collective Seed Audience support documentation.
---
Audience Campaign Manager
The specific audience segment Campaign can be viewed to examine all of the associated Clicks, Click Rate, Conversions and CV Rate.
Click Audience Tools>View Campaign.

Click the Campaign expand button.
Click Campaign Tools>Edit Tracker. (optional)

NOTE: For more information on Tracker settings, refer to our Create an Install Campaign support documentation.

Click Campaign Tools>Traffic Verification. (optional)

NOTE: For more information about Traffic Verification, refer to our Traffic Verifier support documentation.
Last Modified: