NOTE: Around April 26, 2014, Apple modified their automatic code validation surrounding the gathering of the Advertising Identifier (IDFA). The following error indicates a problem with this validation process:
"Improper advertising identifier [IDFA] usage. Your app contains the Advertising Identifier [IDFA] API but your app is not respecting the Limit Ad Tracking setting in iOS."
There have been no instances of the Kochava SDK triggering this error. Kochava's SDK's IDFA usage complies with Apple's guidelines, and Kochava adheres to a user's Limit Ad Tracking setting. Also, Kochava periodically submits apps with our library integrated to ensure that our SDK passes Apple validation.
If this error message appears when you try to submit an app to the app store, alert your Account Manager that you received it, and provide the following information:
Version of Kochava's SDK that you are using
Whether or not you checked YES to answer the question, Does this app use the Advertiser Identifier (IDFA)?
Whether or not you checked any of the 3 boxes under: This app uses the Advertising Identifier to (select all that apply):
What other tracking/conversion SDKs, if any, you are using in your app
From this information, we can trouble-shoot.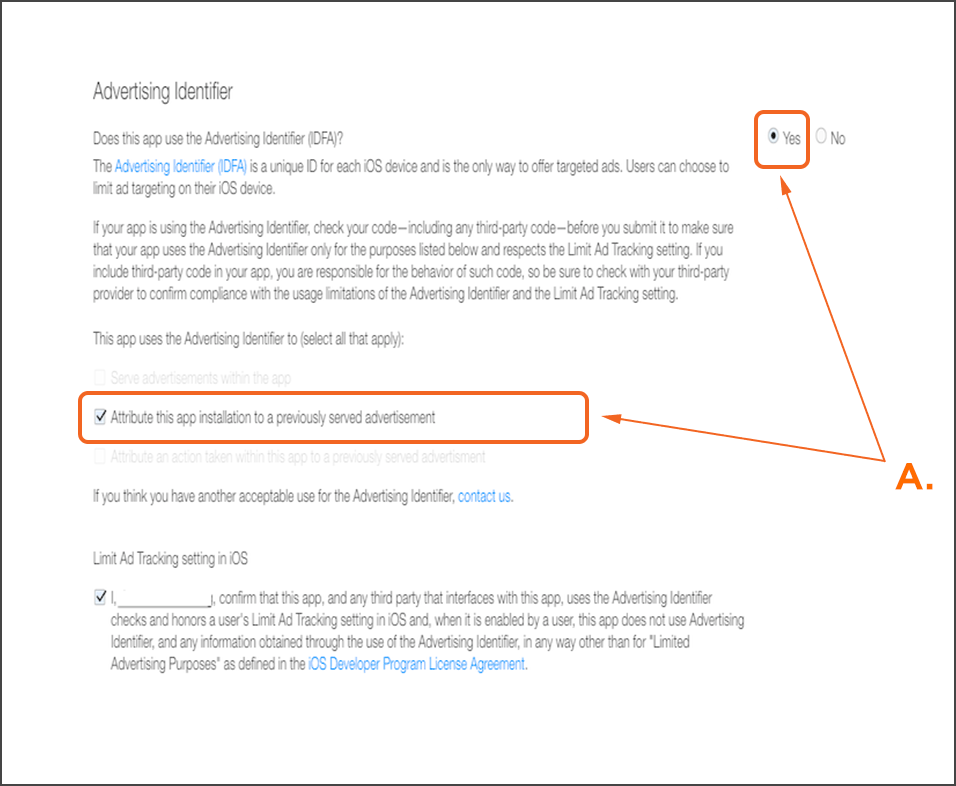 A. Select for Following.