Audience Query provides the ability to create audiences for activation or engagement from row-level data. These custom audience and engagement queries can be saved for future use or modification.
NOTE: Query does not allow the creation or manipulation of SQL tables or data.
---
Query Interface
Log in to Kochava.
Select the desired Account.
Select Query > Audience Query.
---
Query Overview
Audience Query provides drop-down menus to select saved audience queries, an area allowing the creation of custom queries, a text box displaying the query code, as well as the options to run and save the custom audience queries. Once an audience query has been run, the first ten rows of results will be displayed below the tool.
NOTE: The query code box can be shown with either a light or a dark background. Adjusting the background can be accomplished by clicking on the current background choice in the upper right corner of the code box.
A reminder of the number of days left with access to the Query is displayed in the upper right corner. Accessibility is determined based on the service level purchased.
NOTE: 32 Days is displayed because a single month of service was purchased. For a single month, 32 days of access is provided to account for the number of days in the longest month (31 plus 1 day) to allow for processing a full month of data if desired. For continued access to the Query, contact your Client Success Managers for more details.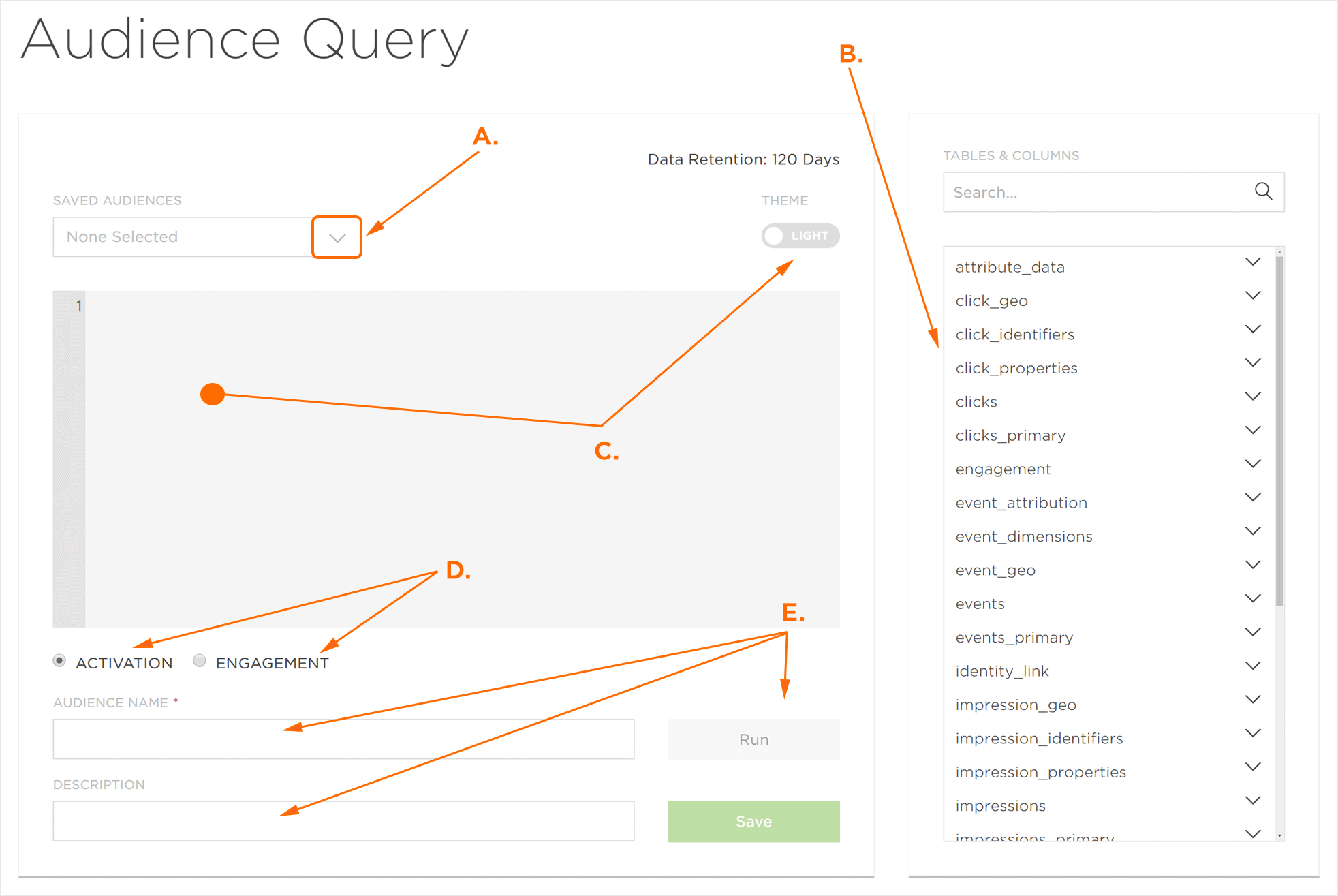 A. Saved Audience drop-down menu.
B. Custom Query Tables and Columns Selection options
C. All code within the Query Code box can be edited and the background changed.
D. Select Activate audience or use the audience within Engagement tool.
E. Run and Save Audience options.
---
Selecting a Saved Audience Query
Once an audience query has been saved, that query will appear under the Saved Audience drop-down menu organized under either Activation Audiences or Engagement Audiences. Once the saved audience has been selected, the query can be updated or modified then run or saved again.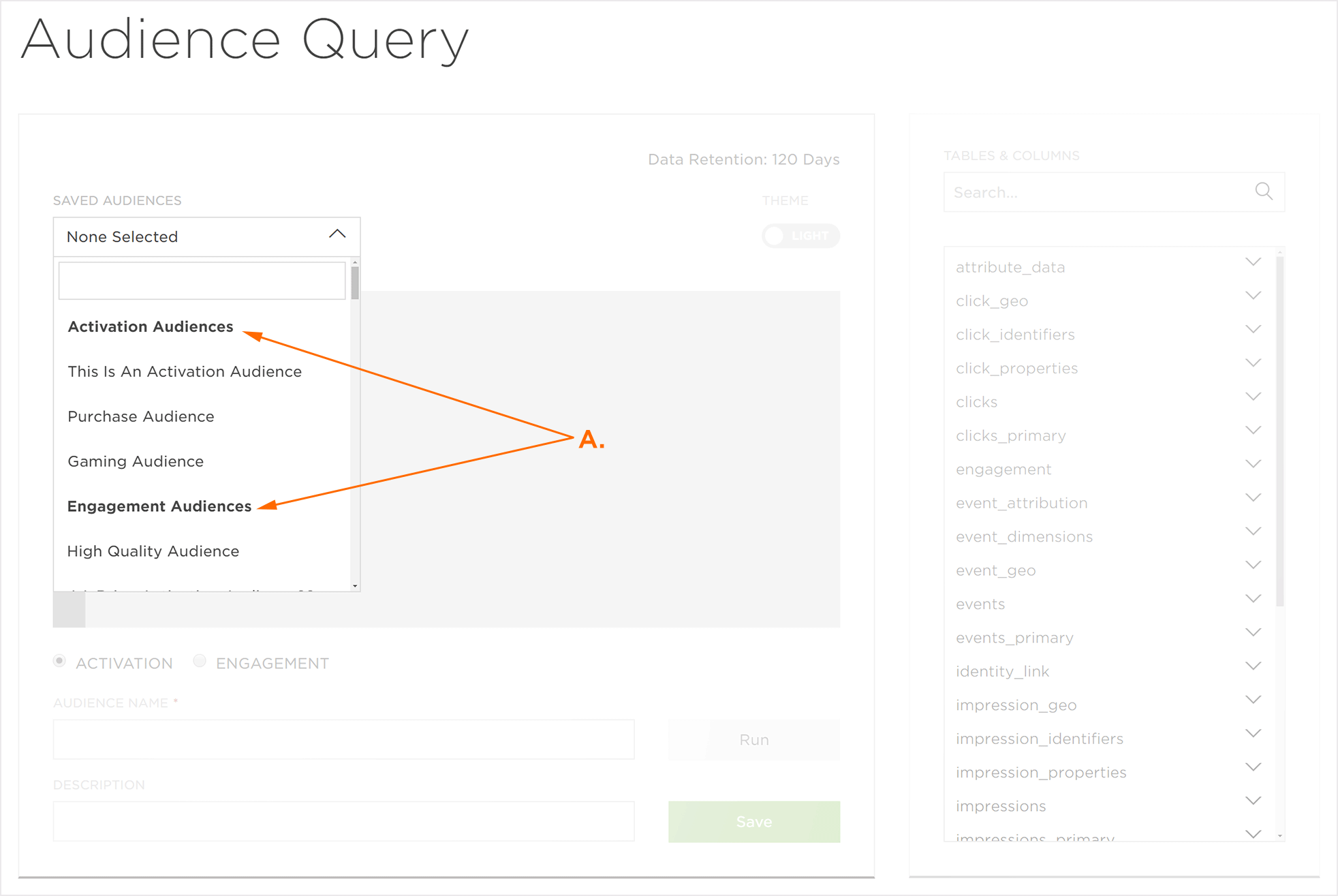 A. Activation Audiences and Engagement Audiences
---
Creating a Custom Audience Query
Custom Audience Queries may be created for any of the apps that are associated with the current account and any of the tables of data that have been collected.
NOTE: Queries should be formatted in accordance with the SQL 2011 Guidance. For more information on structuring a SQL Query, refer to MySQL reference material.
Select the desired Account.
Click on Tables to access associated columns.
Click on Table Column to enter column call into the query.
Select whether the audience is an Activation or Engagement audience.

NOTE: Engagement Audiences are unique because Kochava takes the query and performs an additional join using ADID/IDFA to get the Kochava_Device_ID and retrieve the associated Engagement Token if available.

NOTE: Activation Audiences must have valid SQL using Historical SQL dialect, and must contain a device ID in the select statement (ADID, IDFA) in order to pass to any partner at minimum. It is not allowed to have aliased fields in the select.

Click Run to execute the current query.
Click Save to send the audience to either Kochava Audiences or Engagement.

NOTE: Queries must be successfully run before the audiences can be sent to either Audiences or Engagement.

A. Search tool to locate Tables or Columns
B. Tables of data available for Custom Audiences Queries
C. Columns within the selected table available for Custom Audience Queries
D. Select Activation or Engagement as the audience type
E. Audience Name and Description