App Groups provide the ability to band together multiple apps allowing the creation of cross-platform SmartLinks™ for the tracking of paid and owned media campaigns.
---
App Group User Interface
Log in to Kochava.
Select the desired Account and App.
Select Apps & Assets > App Groups.
---
App Groups Overview
The App Groups page is divided into two section. The main section provides the list of the App Groups which can be ordered by Name, number of Apps, number of SmartLinks, or Date Created. If an app group is clicked on, a detail card will appear with a list of the associated apps.
NOTE: Clicking on View SmartLinks will navigate you away from the App Group page to the SmartLink™ page also located under Links > SmartLinks.


A. App Groups
B. Detail Card for selected app group.
---
App Group Location and Organization Tools
App Groups can be easily located by utilizing the search and organization tools.
Live Search Tools:
App Groups can be located using the live search tool by typing part of all of the name of the app group.
App Group Organization:
App Groups can be organized by using one of the following:
Platform —
All
Android
Android TV
Chromecast
Daydream
Fire OS
HTC Vive
iOS
LGWebOS
Linux
macOS
Nintendo Switch
Nintendo WiiU
Oculus GO
Oculus Rift
Playstation
Roku
Samsung Gear VR
Tizen OS
tvOS
Vizio Smartcast OS
Web
WebGL
windows
Windows Xbox
Status —
Sort —
App Count (Asc)
App Count (Desc)
Created (Newest)
Created (Oldest)
Name (A-Z)
Name (Z-A)
SmartLink (Asc)
SmartLink (Desc)
---
Creating App Groups
NOTE: Only one app of each platform may be in an App Group (i.e., One iOS app and/or One Android app).
NOTE: An app may only be part of one App Group.
Click Add an App Group.
Enter a unique App Group Name.
select the apps to include in the app group
Click Submit.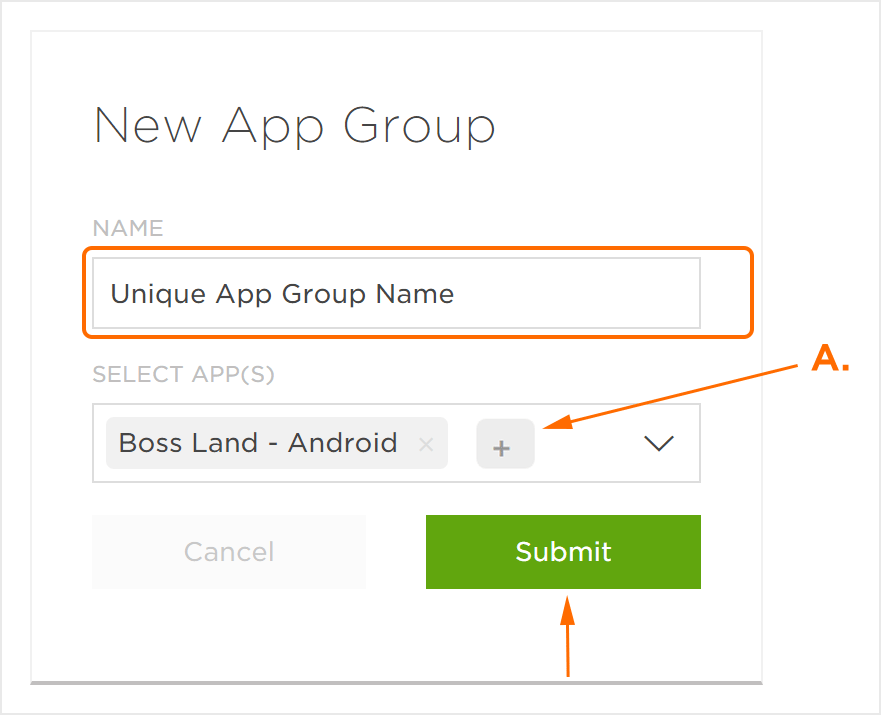 A. Select Apps to Group
---
Editing App Groups
Select App Group Tools (⋮) > Edit or Click on the App Group > App Group Tools (⋮) > Edit.

Edit the App Group Name. (optional)
Add App(s). (optional)
Click Save.
Last Modified: