The LTV (Lifetime Value) page provides visualizations of the campaigns, devices, events, locations or attribution for the selected app. The graph may be moused over to display the data associated with each metric.
---
Analytics Interface
Log in to Kochava.
Select the desired app.
Select App Tools>Analytics.

NOTE: By default, the Analytics Dashboard Interface is loaded.

Select the Analytics drop-down menu>LTV.
---
Analytics Page Tools
For more information on the tools available for this Analytic Page such as the date field, exporting device IDs, sharing the page and applying Cohorts and filters, refer to our Analytics Page Tools support documentation.
---
LTV Chart Overview
The LTV Chart is divided into three main sections the selected metrics, graphic display of the metric volume and metric totals for the selected timeframe.
Mousing over any metric within the graphical display will display the data associated with the corresponding hours/days.
NOTE: When leveraging Cross App functionality, LTV data for all apps within the App Name filter will be displayed. LTV data may be displayed for each app by utilizing the split by feature. For more information on viewing LTV data by app, refer to the Metric Organization section. For more information about adding apps using the filter feature, refer to our Analytics Page Tools support documentation.

A. Metric Names
B. Graphic Display of Metric Volume
C. Mouseover Data
D. Metric Totals
NOTE: When a metric does not have any data associated within the selected timeframe, nothing will be displayed within the graphic display and the Total will display $0.00.
---
Metric Organization
The metrics within the LTV page can be organized in many different ways in order to assist in the optimization of data visualization.
From the Group By drop down menu, Select one of the following:

App

App ID
App Name
App Version

NOTE: In order to use the App split by feature, the desired apps must be added utilizing the filter feature. For more information about adding apps using the filter feature, refer to our Analytics Page Tools support documentation.

Campaign

Campaign
Creative
Install Campaign
Install Creative
Install Tracker
Segment
Tracker

Device

Device Carrier Name
Device Network Conn Type
Device Orientation
Device Os
Device Os Version
Device Type
Device Version

Events

Ad Size
Ad Type
Churn Likelihood
Churn Score
Countrycode
Currency
Currencycode
Data
Device Type
Game
Pack
Placement
Product
Push Campaign
Push Message Variant
Push Segment
Receipt Status
Revenue
Sum
TV Brand Name
TV Channel
TV Channel Name
TV DMA
TV Episode Title
TV Genre
TV Product Name
TV Program Name

NOTE: Kochava now provides the tracking of events associated with the serving of advertisements through television. Once the TV advertisement data has been collected, the event data can be visualized within the Analytics dashboard. For instructions on visualizing TV tagging data within Analytics, refer to our TV Tagging support documentation.

Event Name

Location

City
Country
DMA
Zip

Attribution

Type
Install Matched By
Install Network Name
Install Site
Matched To
Matched By
Network Name
Network Id
Network Key
Partner Ad Group Id
Partner Ad Group Name
Partner Campaign Name
Partner Keyword
Partner Platform

NOTE: For more information about how the Partner fields map to SAN metadata, please refer to our SAN Networks Campaign Data Mapping support documentation.

Site

Agency

Agency Name
Agency Id

Traffic Verification

Traffic Verification Fail Reason
Traffic Verified
---
Organize by Interval
Intervals within the metric graphic display can be organized to display specific windows of time.
From the Show drop down menu, Select one of the following:

24 Hours
7 Days
14 Days
30 Days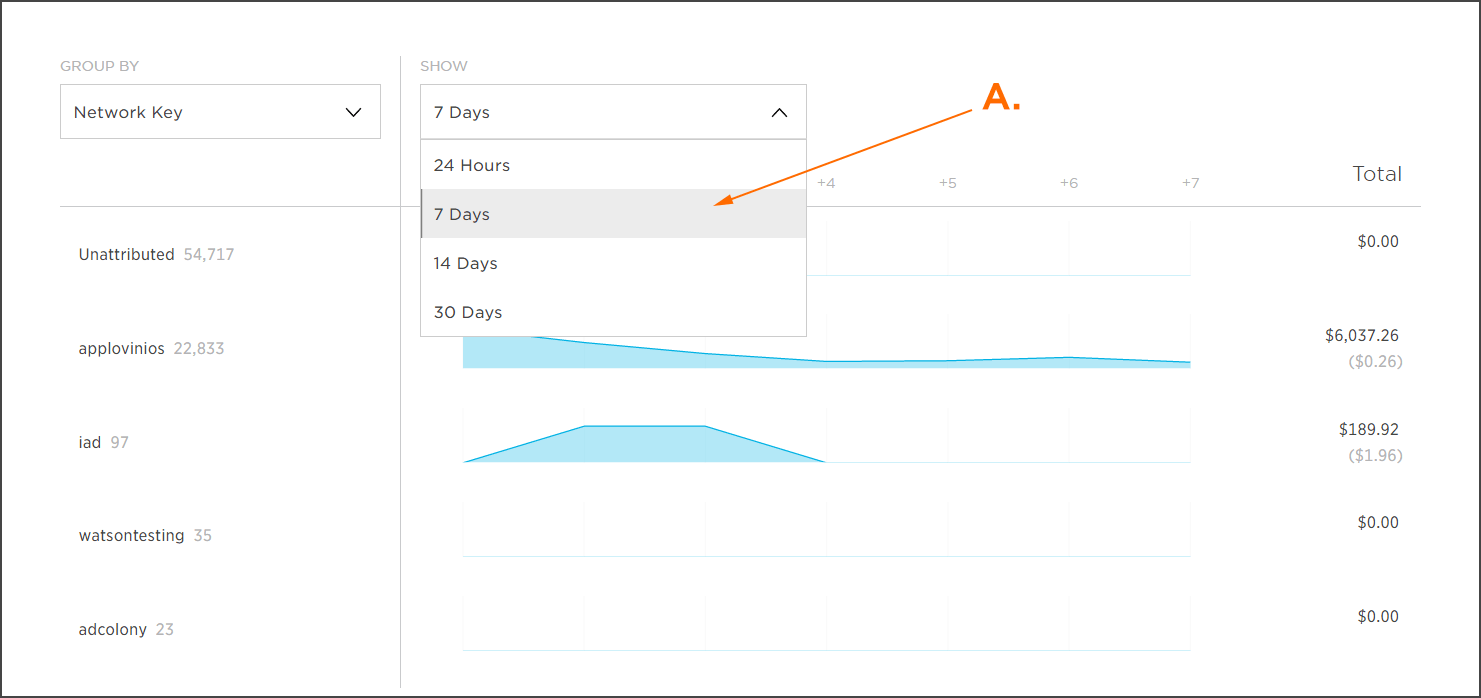 A. Interval from 24 Hours to 30 Days
Last Modified: