The following document defines the process for creating a Twitter campaign within Kochava.
Data Needed Before Beginning Process:
Twitter Ads account.
App Bundle ID (i.e Package Name).
Use Cases for Twitter Campaign:
An app marketing campaign needs to be created for Twitter network.
NOTE: The Twitter setup process for iOS and Android is similar and therefore this document will cover the setup for both operating systems, with specific differences noted.
NOTE: Twitter is one of Kochava's network partners which claims its own installs, this type of network is known as a SAN (Self Attributing Network). Twitter will always claim its own installs, with the exception of mobile web inventory or any inventory that does not have access to a device ID. This means that conversions claimed by Twitter may subsequently be attributed by Kochava to other networks. It is therefore expected for Kochava to show fewer installs than are shown in the Twitter system. It also means that Kochava does not impose the lookback window setup within Kochava on install claims, so the effective lookback window for post-impression and post-click installs will be the settings configured within the Twitter UI.
---
Authenticating with Twitter
Log into a Twitter Ad Account.

Click Create new campaign>App installs or re-engagements.

Click Set up conversion tracking.

Click Go to Kochava.

NOTE: After clicking on Go to Kochava, a pop-up box will appear warning that you will be redirected from Twitter Ads to Kochava. The page will be redirected to the Kochava log in screen.

In the pop-up box, Click Go to Kochava.
Enter Kochava log in credentials.
Select Account Options>Twitter Connect.
Click Connect for the desired Twitter account.

NOTE: Multiple Twitter Ad accounts may be connected at the same time, follow the above directions for authenticating additional Twitter accounts with Kochava.
---
Create a Twitter Campaign
Select the desired app.
Select App Tools>Campaign Manager.

Click Add a Campaign.
Enter a unique Campaign Name.
Enter the Default Destination URL.

Select Campaign Tools>Add a Segment.

Enter a unique Segment Name.
Enter a Description. (optional)
Click Submit.

---
Create a Twitter Install Tracker
NOTE: Only one tracker is required for all Twitter campaigns.
Select Segment Tools>Add a Tracker.

Enter a unique Tracker Name.
Select Tracker Type>Acquisition. (default setting)
Select Select a Network>Twitter:

a. Twitter-Android (Android)
b. Twitter-iOS (iOS)

Click the desired Twitter account(s).

NOTE: Multiple Twitter accounts may be selected.

Enter the App Bundle ID. For further information about locating the Bundle ID, click here.
Select a Target Event. (optional)
Select a Post-Engagement Attribution Window. (optional)
Select a Post-View Attribution Window. (optional)
Click Submit.
A. Slect a Twitter Account. Multiple Accounts may be selected.
B. Enter Bundle ID
---
Create a Twitter Postback Configuration
Select App Tools>Partner Configuration.

Click Add a Configuration.
Select Network Partner>Twitter:

a. Twitter-Android (Android)
b. Twitter-iOS (iOS)

Click Go.

Click Install>Postback Tools>Edit.
Enter the App ID:

a. iTunes App ID (iOS)
b. Package Name (Android)

Enter the Twitter Conversion Type.

NOTE: The Twitter Conversion Type must match the conventions established by Twitter. For a list of Twitter events, click here.

Select a Delivery Delay. (optional)
Select the number of Retry Attempts. (optional)
Click Save.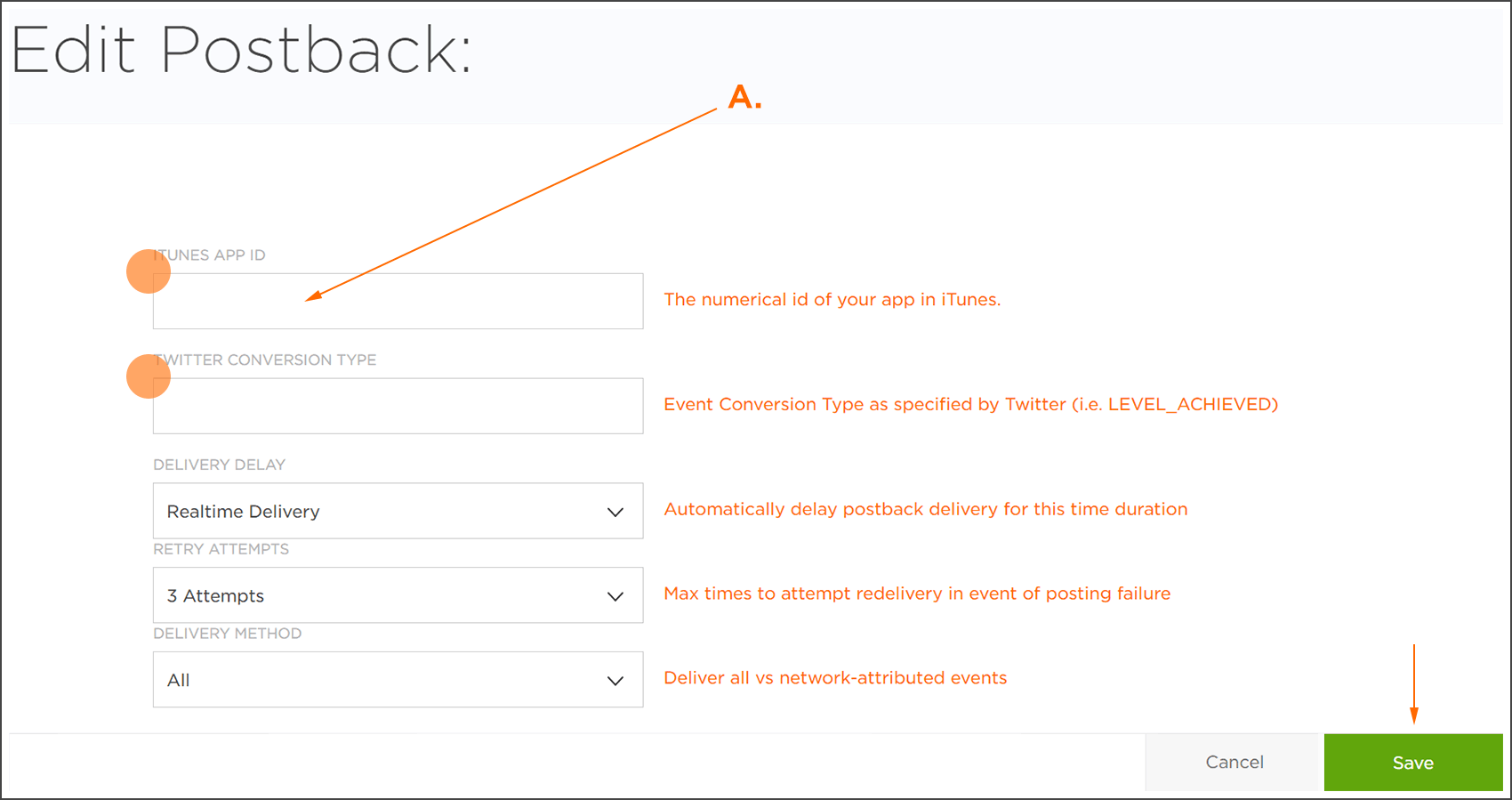 A. Enter App ID (iOS) or Package Name (Android)
Last Modified: