The Analytics Explorer page provides a detailed breakdown of any dimension and metric within the selected app. The Explorer page is fully customizable and provides the ability include, exclude and reorganize data to maximize efficiency.
NOTE: From any of the other Analytics pages, you can navigate to the Explorer tool and retain the current filter settings. This provides in depth views into any aspect of an app's data.
---
Analytics Interface
Log in to Kochava.
Select the desired app.
Select App Tools>Analytics.

NOTE: By default, the Analytics Dashboard Interface is loaded.

From the Analytics drop down menu, Select Explorer.
---
Analytics Page Tools
For more information about the tools that can be used on the Analytics page such as date range, filters, sharing the page and exporting device ID, refer to our Analytics Page Tools support documentation.
---
Explorer Chart Overview
The Explorer chart is divided into 2 main sections, the Dimensions and Metrics selection areas, and the interactive chart.
Dimensions and Metrics can be added, removed and reordered as needed.
Mousing over Dimensions displays the expand button. By clicking on the Dimension expand button, specific level data can be displayed.
NOTE: When leveraging Cross App functionality, Explorer data for all apps within the App Name filter will be displayed. Explorer data may be displayed for each app by utilizing the dimensions feature. For more information on viewing Explorer data by app, refer to the Explorer Organization section.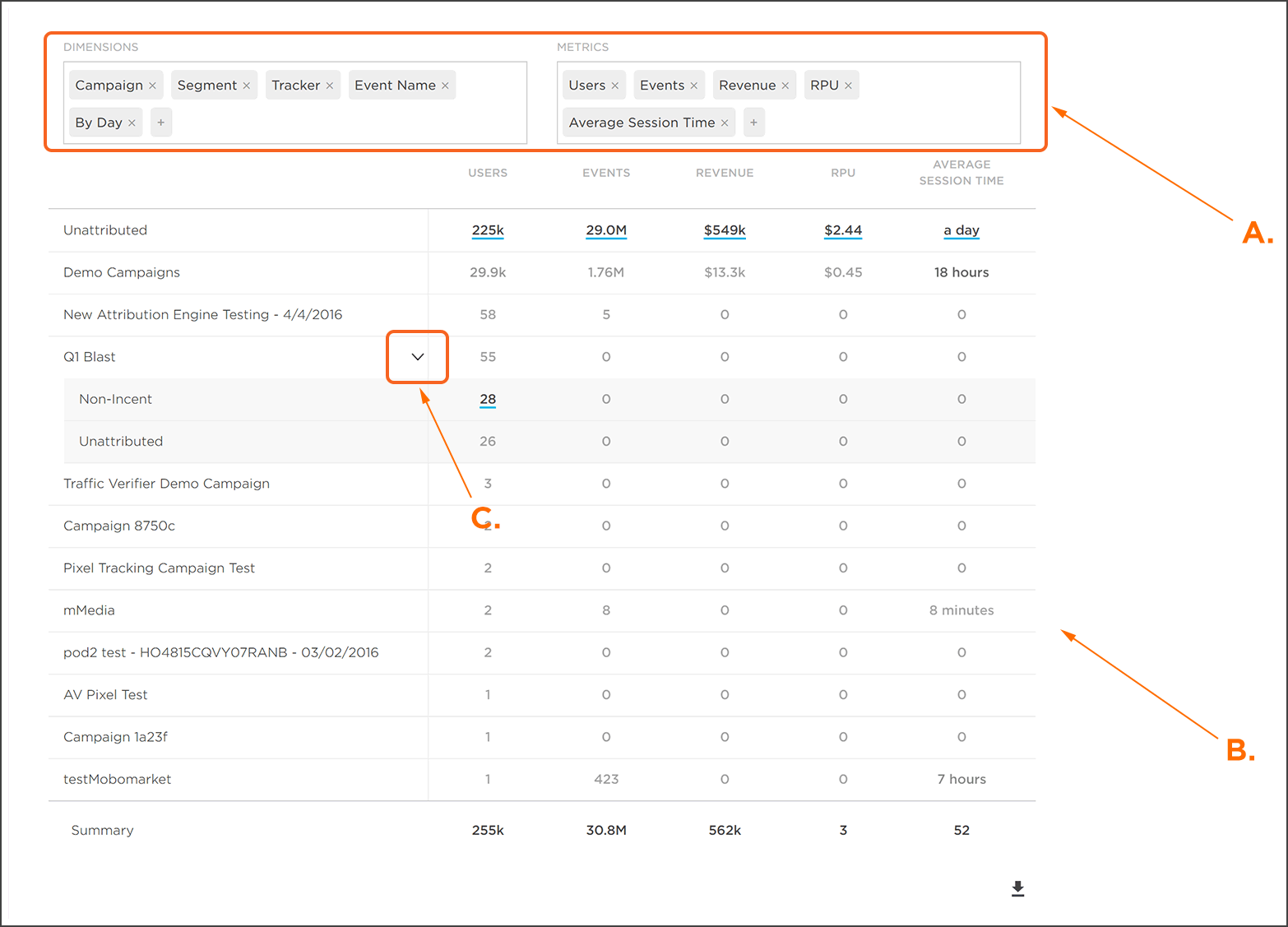 A. Dimensions and Metrics can be updated and organized as needed
B. Chart displaying selected Dimensions and Metrics
C. Dimension expand button
---
Explorer Organization
Explorer data can be organized in many different ways in order to assist in the optimization of data visualization.
Within the Dimensions section, Click the "+" icon and Select one of the following:

a. App ID
b. App Name
c. App Version
d. Creative
e. Device Carrier Name
f. Device Network Conn Type
g. Device Orientation
h. Device Os
i. Device Type
j. Device Version
k. Ad Block Enabled
l. Ad Size
m. Ad Type
n. Countrycode
o. Currency
p. Currencycode
q. Data
r. Device Type
s. Game
t. Pack
u. Page Name
v. Placement
w. Product
x. Receipt Status
y. Remapped From
z. Revenue
aa. Time on Page
ab. User ID
ac. City
ad. Country
ae. Zip
af. Type
ag. Matched To
ah. Matched By
ai. Network Name
aj. Network ID
ak. Network Key
al. Site
am. Traffic Verification Fail Reason
an. Traffic Verified
ao. By Hour
ap. By Week
aq. By Month

NOTE: By default, Campaign, Segment, Tracker, Event Name and By Day Dimensions are displayed.

NOTE: In order to use the App dimension feature (App ID, App Name, App Version), the desired corresponding apps must be added utilizing the filter feature. For more information about adding apps using the filter feature, refer to our Analytics Page Tools support documentation.

Within the Metrics section, Click the "+" icon and Select one of the following:

a. Cohort Installs
b. LTV
c. RPI
d. ROI
e. Cost
f. New Users
g. New Users Attr
h. Clicks
i. CVR
j. Impressions
k. Sessions
l. Average Session Count
m. Events per User
n. Total

NOTE: By default, Users, Events, Revenue, RPU, and Average Session Time Metrics are displayed.

Specific Dimensions and Metrics can be removed by Clicking on the "X".

Dimensions and/or Metrics can also be reordered by dragging and dropping the Dimensions and/or Metrics into any desired order. Once Dimensions and/or Metrics have been reordered, the interactive chart will be updated to reflect the change.

A. Original Configuration
B. Drag and Drop to reorder
C. New Configuration
---
Exporting the Explorer Data
The data displayed within the Explorer chart can be exported in CSV format.
NOTE: Only the highest dimension selected will be displayed as part of the export.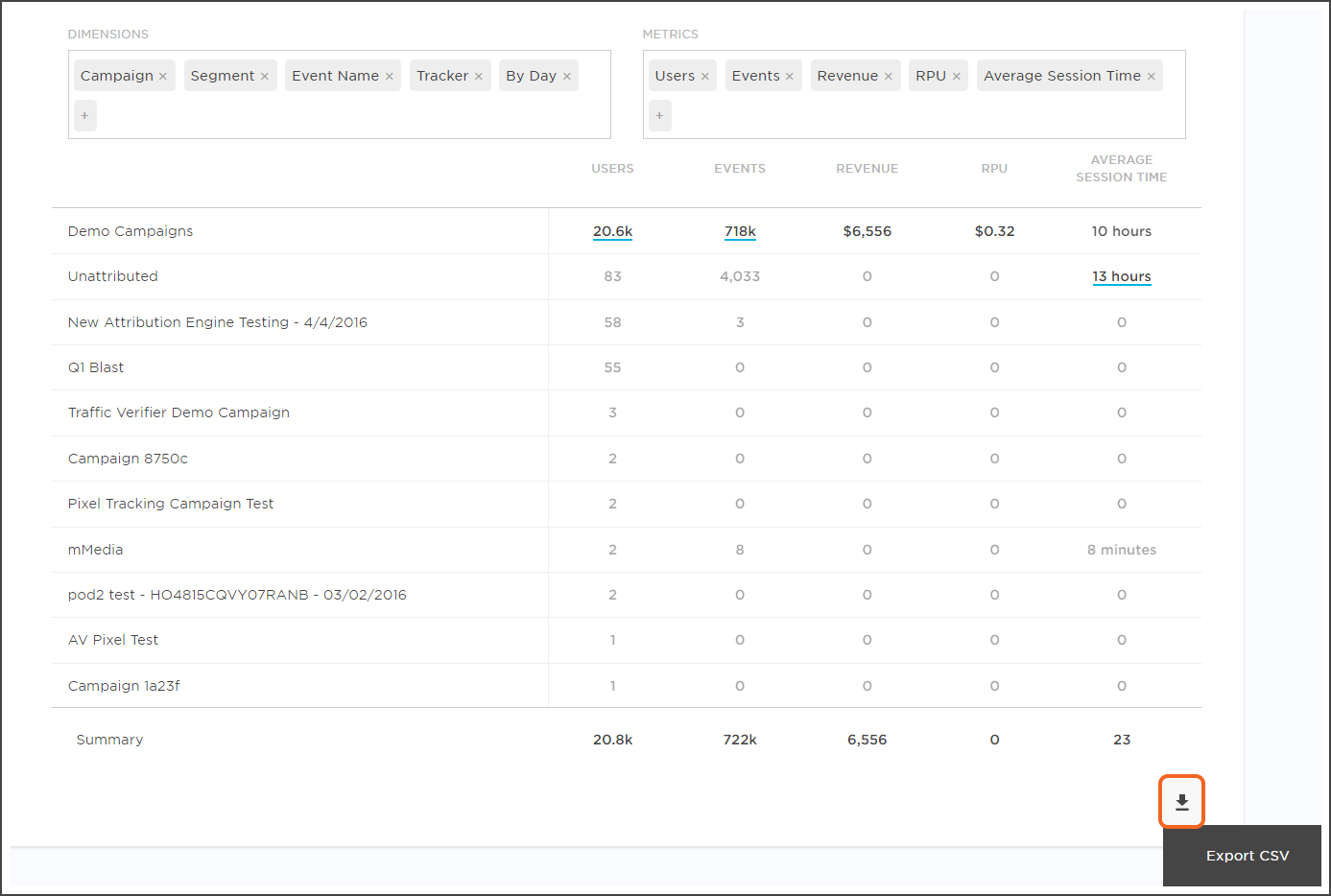 Last Modified: